First-in-kind Investigations Utilizing 3-Dimensional Human Brain Organoid Models and Advanced Automated Cell Culturing Capabilities Launched to ISS on SpaceX CRS-18 Mission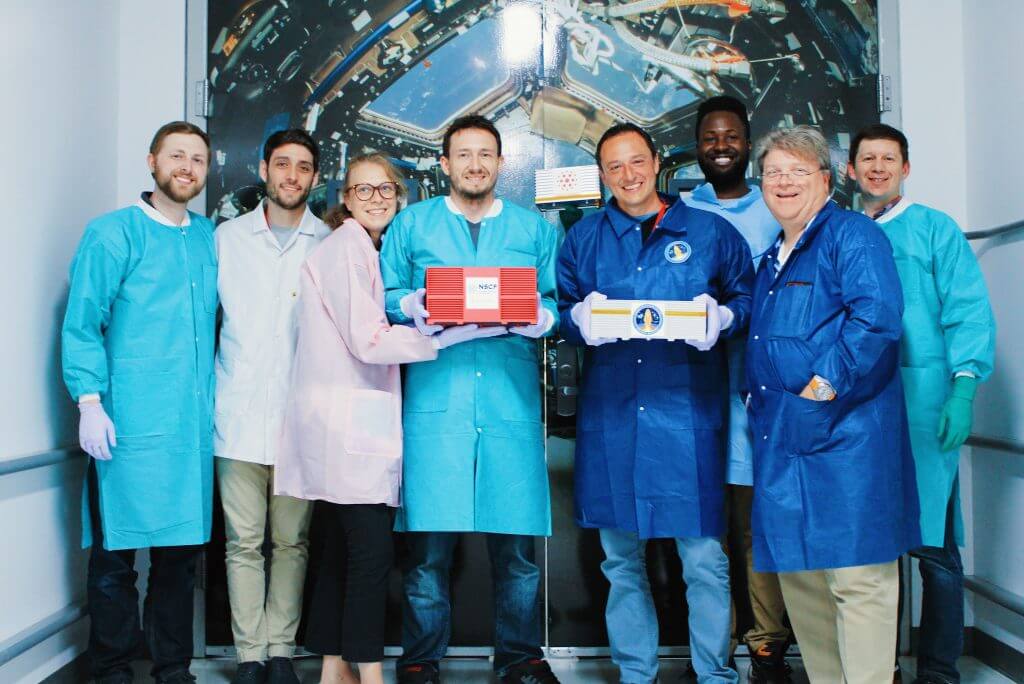 LEXINGTON, Ky. (July 25, 2019) – Space Tango successfully launched two human brain organoid models on the SpaceX Commercial Resupply Services Mission (CRS-18) to the International Space Station (ISS). To date, the lack of human models of neurological disease has hampered progress in the field. Organoids are small, living masses of cells that interact, grow, and can survive for months. They serve as a useful 3-dimensional human model system to understand the biological processes involved in neurological disease and to identify potential new treatment options. These first-in-kind investigations on human 3-dimensional models provides advanced capabilities for research across a spectrum of disorders and opportunities for new insights that may reshape our current understanding of neurological diseases.
The National Stem Cell Foundation (NSCF) payload, a collaboration between research teams led by Dr. Valentina Fossati at the New York Stem Cell Foundation (NYSCF) Research Institute and Drs. Jeanne Loring and Andres Bratt-Leal from Summit for Stem Cell and Aspen Neuroscience, is the first time 3-dimensional models for neurodegenerative disorders using patient-derived induced pluripotent stem cells (iPSC) with Parkinson's disease and Primary Progressive Multiple Sclerosis will be studied on the ISS. The Effects of Microgravity on Microglia 3-Dimensional Models of Parkinson's Disease and Multiple Sclerosis investigation will evaluate both cortical and dopaminergic neurons and focus on understanding neuroinflammation – a process common to both diseases and biomarkers in the disease process.
"The National Stem Cell Foundation is delighted to be funding innovative science at the frontier of new drug and cell therapy discovery," said Dr. Paula Grisanti, CEO of NSCF. "The leading-edge research findings that have developed through this collaboration between important research groups may fundamentally alter our understanding of how and why neurodegeneration occurs."
A University of California San Diego (UCSD) School of Medicine research team, led by Drs. Alysson R. Muotri and Erik Viirre will observe the effects of microgravity on human brain organoids during early development. The Effects of Microgravity on Human Brain Organoids investigation, also known as the BOARDS mission (Brain Organoid Advanced Research Developed in Space), is the first time that complex models providing insight into the neurodevelopmental process will be studied on the ISS.
Through the development of these payloads, Space Tango's engineering is expanding its capability to support complex biological payloads and long duration cell culturing on. Similar to the recent tissue chip payloads supported by Space Tango, the capabilities developed for supporting the brain organoid payloads on the ISS are anticipated to provide opportunities to advance terrestrial research as well as through the automated, high throughput systems that have been developed.
"Space Tango is proud to support this important research and to be working with neurological disease experts from both teams," commented Space Tango President and CEO Twyman Clements. "These projects highlight microgravity as a new frontier for discovery and our belief that the next important breakthroughs that benefit life on Earth may occur off the planet. These projects also represent an important step in establishing our capabilities to support both research and personalized medicine applications for future commercial markets in low Earth orbit."
In addition to the brain organoid payloads, two educational STEM payloads developed by students from Magnitude.io and the Quest Institute facilitated by Space Tango launched for the SpaceX CRS-18 mission. For more details on these payloads, visit https://spacetango.com/whats-flying-a-look-at-space-tango-spacex-crs-18-payloads/.
About Space Tango
Space Tango provides improved access to microgravity through their Open Orbit platform for research and commercial manufacturing applications that benefit life on Earth. The Company believes the microgravity environment is a new frontier for discovery and innovation. Space Tango is focused on creating a new global market 250 miles up in low Earth orbit and envisions a future where the next important breakthroughs in both healthcare and technology will occur off the planet. Recognized for their expertise in microgravity design and operations, Space Tango believes that by exploring with industry and educational partners of all kinds, we can improve life on Earth and inspire the next generation to continue to expand the horizon of this new frontier. For more information, visit www.spacetango.com.
About the National Stem Cell Foundation
The National Stem Cell Foundation is a 501(c)3 non-profit organization that funds adult stem cell and regenerative medicine research, connects children with limited resources to clinical trials for rare diseases and underwrites the National STEM Scholar Program for middle school science teachers inspiring the next generation of STEM (science, technology, engineering and math) pioneers nationwide. For more information, visit nationalstemcellfoundation.org.
UC San Diego School of Medicine
Established in 1968, University of California San Diego School of Medicine is consistently ranked among the top medical school programs in the country for primary care and research by U.S. News & World Report and among the top 10 medical schools for National Institutes of Health total funding. The school is internationally recognized as a place where discoveries are delivered — bringing breakthroughs from the research lab to patients' bedsides. Faculty members care for patients at UC San Diego Health, where primary care is available at several convenient locations throughout San Diego County and our advanced specialty care consistently ranks among the nation's best. For more information, visit medschool.ucsd.edu.